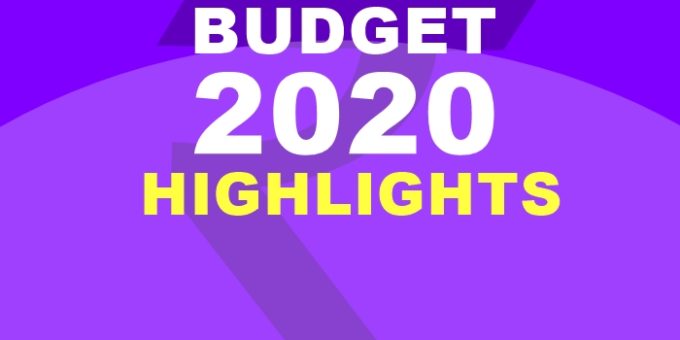 We Bring You Budget 2020 Live Updates and Budget 2020 Highlights with Detailed Analysis. Every Important Points of Budget 2020 in Simple Words for Current Affairs, Budget Updates 2020, Budget 2020 India, Budget 2020 Important takeaways.
BUDGET HIGHLIGHTS 2020
---

THIS PAGE UPDATES AUTOMATICALLY IN 60 SECONDS.
FM NIRMALA SITHARAMAN SAYS;
INCOME TAX REDUCTION and CORPORATE TAX and DEFENCE
Custom duty raised on footwear and furniture
Excise duty Hiked by way of national calamity contingent duty on cigarettes, tobacco products
Customs duty on import of newsprint, light weight coated paper reduced to 5% from 10% earlier
Customs duty on tableware/kitchenware made of porcelain or China ceramic, clay iron, steel, copper doubled to 20%.
The defence pension budget goes up to Rs 1.33 lakh crore from Rs 1.17 lakh crore last year.
Simplified GST Returns to be implemented, New GST System from April
AADHAR Linked Deduction
Amendment to Provision of Income Tax Act Proposed
Instant PAN CARD Through AADHAR(For Individuals)
Rs 1.5 lakh tax benefit on interest paid on affordable housing loans to March 2021
In a boost to MSMSEs, turnover threshold for audit raised to Rs 5 crore from Rs 1 crore
New Scheme for Tax Litigation
100% tax concession to sovereign wealth funds on investment in infra projects
Concessional tax rate of 15% extended to power generation companies
Affordable Housing – Tax Holiday Extended by 1 Year
Affordable Housing – Extended till 2021
A person earning Rs 15 lakh per anum and not availing any deductions will now pay Rs 1.95 lakh tax in place of Rs 2.73 lakh
5 Years Tax Holiday for Start Ups
25 Cr to 100 Cr for Start ups
DDT Removed (Dividend Distribution Tax)- To Help MSMEs
30% on income above Rs 15 lakh will be continued
15% Income Tax for 7.5 to 10 Lakh Income Group
10% Income Tax for 5 to 7.5 Lakh Income
No Income Tax upto Rs.5 Lac
Tax Relief for Middle Class
OTHER TAKEAWAYS –
5 Lakh MSMEs Benifitted
Factor Regulation Act to be Amended for MSMEs
Scheme Sub ordinate Debt Introduced for MSMEs
Rezig in Co-operative Banks Laws
Insurance Cover for Each Depositors Increased from 1 Lac to 5 Lac
Robust Mechanism in place for All Commercial Banks, Good News for Depositors as Their Deposit Money is Safe
30757 Cr for J&K Development
5958 Cr for Ladakh
100 Cr for G20 Preparation
India will Host G20 Presidency in Year 2022
Companies Act to be Am mended
National Recruitment AGENCY to be Setup – For Recruitment to Non-Gazetted Posts, for Banks and likes
Tax Payer Charter Law – No Tax Harassment
Ease of Doing Business
Ease of Living for All Citizens
Corruption Free Clean Govt
CULTURE and TOURISM, Environment and Climate Change
Wealth Creators must be Respected – FM
4400 Cr for 2020-2021 for Environment Related Measures
Clean Air for Large city – Incentives for State Govt
From 1st Jan 2021, Start of Climate change Measures
2500 Cr for Tourism
Specified Grants for States
3550 Cr for Ministry of Culture for 2021
Maritime Musium
Tribal Museum in Jharkhand
5 Archaeological Sites to be Developed
Rakhighadi, Hastinapur(UP), Shiv Sagar, Dolabira, Adichenlur(TN)
WOMEN, CHILD Welfare, SC, ST, Senior Citizens and Divyang
9500 Cr for Senior Citizens and Divyang
53,700 Cr. for ST(Schedule Tribe)
85000 Cr for SC and Other Backward Classes
35000 Cr for Nutrition Scheme
No Manual Cleaning for Safety Tanks and Sewage
Beti Bachao Beti Padao – Gross Enrollment Ratio of Girls Higher than Boys
ECONOMICS
8000 Cr National Mission for Quantum Technology
6000 Cr for Bharat Net Program 2021 for1 Lac Optical Fiber Program to connect villeges
Data Center Park throughout the Country-All Public Institutions will be connected
Pre-Paid Smart Meters by 2023 for Electricity
To Expand GAS Corridor
1.7 Lac Crore for Transport Infrastructure by 2021
100 More Airports by 2024 under UDAAN Scheme
RAILWAY
18600 Cr. for Bangalore Urban Rail Project
More TEJAS Type Trains for Tourism
Setting up large solar power capacity alongside Rail Tracks, Land owner by Railways
Automated Level crossings
wifi on Railway Stations
ECONOMICS
Chennai – Bangalore Expressway
DELHI – Mumbai Expressway by 2022
Rs. 100 Lac Crore for Infrastructure
27300 Cr for Development and Promotion of Industry & Commerce for 2020-2021
NIRVIK Scheme Launched – For Higher Insurance cover, Proposed to digitally Duty refund to exporters
National Technical Textile Mission proposed with 1480 Crore for 4 Years Period.
Scheme to Boost Manufacturing Sector
5 New Smart Cities Proposed
Entrepreneurship is India's Strength – Focus on Them
EDUCATION
3000 Crore for Skill Developments
99, 300 Crore for Education Sector
Medical Colleges in District Hospitals
Degree Level Online Program
STUDY in INDIA Program
New Education PLAN to be Implemented soon
Intenship Program for Fresh Engineers
FDI in Education Sector
HEALTH SECTOR
12300 Crore for Swachh Bharat Mission
69,000 Crore for PM Arogya Mission
Aim to END TB by 2025
More Hospitals to be Setup in coming Years.
ON AGRICULTURE –
3.6 Lakh Crore for Jaljeevan Mission
2.83 Crore for Agri Sector
58 Lakh SHG mobilezed, Further Expansion of this Proposed under Deendayal Upadhyan Scheem
SAGAR MITRA – FISH Farmers
108 Metric Ton Milk Production by 2021
Kisan Credit Card Proposed for Farmers
Blue Economics – Marine Fishery
NABARD Scheme to Further Expanded
0 Budget Natural Farming
Krisi Udaan and Kissan Rail to be launched to help North east and Tribal Districts
Map and GEO Tag of Farmer Warehouses
Solar Pumps for 20 Lakh Farmers
To Help 15 Lakh Farmers for Solar Panel Power Generation
16 points to focused ACTION PLAN Agricultural Growth
Doubling Farmers income by 2022
Humare watan Khilte hue shalimar baag jaise, Humare watan dal lake mein khilte hue kamal jaise, nau-jawanon ke garam khun jaisa, mera watan , tera watan, humara watan, dunia ka sabse pyara watan.

Shayari By FM
FDI Grew by 284 Billion Dollar
India is 5th Largest Economy of the World
16 Lakh New Taxpayers added
Annual Household Savings Rs.4000 Crore due to GST
Inspector Raj has Ended – Claims FM
Sitharaman Pays homage to former FM Late Arun Jaitley
This Budget Aims to fulfill aspirations of all section – FM
FM Sitharaman Started Budget Speech in Parliament
Lok Sabha speaker Om Birla Enters the Parliament
Pre Budget Cabinet Meet underway.
Next – Sitharaman to Meet President Ramnath Kovind before presenting the Budget
Like Last Year, This year also No Briefcase, It's "Bahi-Khata" again.
Finance Minister Nirmala Sitharaman Reaches Ministry of Finance
---
What's For You in This Budget 2020?
What's For The farmers in Budget 2020?
What's For The Middle Class in Budget 2020?
What's For The Poor in Budget 2020?
What's For The Corporate Sectors in Budget 2020?
ALSO TRY : Republic Day Quiz Contest