Gk quiz on important dates and gk quiz on important days which people look for. Dates are important and one can't remember all of those! This GK quiz will enhance your general knowledge on important days and dates fall in the month of December 2019. GK quiz about important dates are always challenging yet interesting.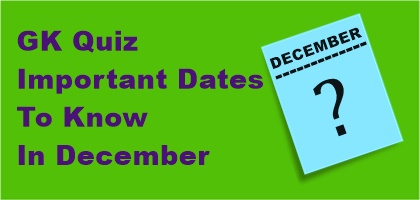 Dates are confusing and easy to forget!! But here you can practice those GK and then take a test on our general knowledge and Quiz exam sets.
1. 2nd December is celebrated as:
A. International day for abolition of slavery
B. National Pollution Control Day
C. None of A and B
D. Both of A and B
ANS : D
2.When is World AIDS day celebrated?
A. 3 December
B. 17 December
C. 5 December
D. 1 December
ANS : D
3. World Soil Day is observed on which date?
A. 25 December
B. 21 December
C. 5 December
D. 3 December
ANS : C
4. 7 December is celebrated as what?
A. International Civil Aviation Day
B. Armed Forces Flag Day
C. Non of A and B
D. Both A and B
ANS : D
5. What is the Theme of International Volunteer Day 2019?
A. Volunteer is very wise
B. Volunteer never retires
C. Volunteer for an inclusive future
D. Volunteer means help
ANS : C
6. National Mathematics Day is celebrated on
A. 22 December
B. 23 December
C. 30 December
D. 25 December
ANS : A
7. Marry Christmas is celebrated on which day
A. 31 December
B. 15 December
C. Last Friday of December
D. 25 December
ANS : D
8. Indian Navy Day is celebrated on which date?
A. December 4
B. December 14
C. December 19
D. December 11
ANS : A
9. International Anti-corruption Day is observed on?
A. December 9
B. December 6
C. December 20
D. December 18
ANS : A
10. Human–Rights Day is celebrated on?
A. 11 December
B. 27 December
C. 10 December
D. 23 December
ANS : C
Click here to read interesting facts on X-mass GK Quiz.