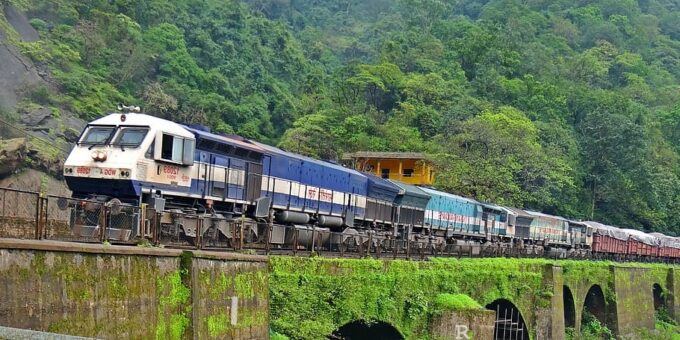 Well, Journey by a train is a wonderful thing. In India it is mesmerizing! I am going to write one of my favorite journey by train, which was from Bangalore to Kanyakumari. A Train Journey from Bangalore to Kanyakumari is never forgettable. When I took this Journey, the name Bangalore was not even changed to Bengaluru.
Introduction :
Travelling by train is one of the most enjoyable experiences, and it becomes even more exciting when you get to explore new places. Recently, I took a train journey from Bangalore to Kanyakumari, and it was an unforgettable experience. A lot of station names has been renamed now.
The journey started at the Bangalore City Railway Station, which was bustling with activity. The train was scheduled to depart at 10:00 PM, and I was all set with my luggage and a book to read. As soon as the train arrived, I found my seat and settled in for the long journey ahead.
Body / Description ( Journey By Train ) !
The train journey took us through the beautiful landscapes of southern India. The lush green forests, the rolling hills, and the sparkling waterfalls were a treat for the eyes. As the train chugged along, I couldn't help but admire the beauty of the countryside.
The train made several stops along the way, allowing passengers to get down and stretch their legs or grab a quick bite. I got down at one of the stations and bought some local snacks to munch on during the journey. The vendors selling delicious South Indian delicacies like vada, dosa, and sambar added to the charm of the journey.
As the night set in, I retired to my seat and fell asleep to the rhythmic sound of the train's wheels. The next morning, I woke up to the stunning view of the sunrise over the Arabian Sea. The train was now running parallel to the coast, and the sea breeze was refreshing. The train made its final stop at the Kanyakumari Railway Station, and I disembarked feeling refreshed and rejuvenated.
Kanyakumari is a beautiful coastal town located at the southernmost tip of India, and it is known for its scenic beauty and cultural significance. I spent a few days exploring the town's attractions, including the Vivekananda Rock Memorial, the Thiruvalluvar Statue, and the Kanyakumari Temple. The local seafood was a highlight of my trip, and I enjoyed some delicious fish curry and prawn fry at the local eateries.
Conclusion :
The train journey from Bangalore to Kanyakumari was an amazing experience that I will cherish for a long time. The train ride through the picturesque countryside, the delicious South Indian snacks, and the stunning coastal views made the journey memorable. Kanyakumari's serene beaches and cultural significance added to the charm of the trip, making it an unforgettable experience.