India is vast country and culturally very rich. States and Union Territories of India With Their Capital Names . There are many languages, different dress codes, separate states and Union Territories in India. It is 2nd most Populated country in the World with about 1.3 Billion People living. So let's learn about the states and union territories of India with their capital name, language spoken, geographical area, famous dance etc.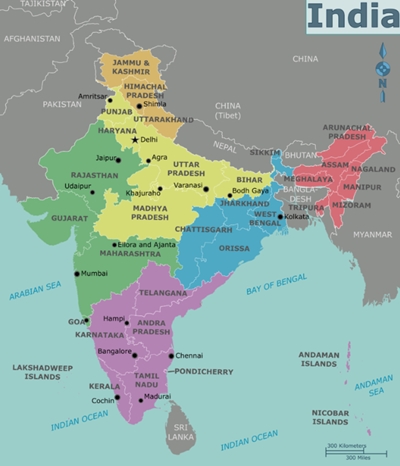 After J&K State separated into two separate Union Territories Jammu & Kashmir and Ladakh, there are total 28 States and 9 Union Territories in India Currently.
1-State:Andhra Pradesh
Area : 160205 km²
Language: Telugu
State Animal: Krishna Jinka(Black Buck)
State Dance:Kuchipudi, Andhra Natya
State Flower: Water Lily
State Capital: Hyderabad (Temporary State capital for 10 years, that is upto the year 2024. After that Amaravati will be the new state capital of Andhra Pradesh. Amaravati is being built to a capital city standard and will be ready for use by 2024. )
2-State: Karnataka
Language:Kannada
Area : 1,91,791 sq. km
State Dance:Yakshagana
State Capital: Bangalore
3-State: Kerala
Language:Malayalam
Area : 38,863 sq. km
State Dance:Mohiniattom
State Capital: Thiruvananthapuram
Others:
4-State:Tamilnadu
Language:Tamil
State Dance: Bharatnatyam
State Flower: Glosiosa lily
State Capital: Chennai
5-State: Odisha
Language: Odia
Area: 1, 55,707 Sq. Km
State Dance: Odishi
State Capital: Bhubaneswar
Others: Odisha is famous for its Golden tourism triangle. Bhubaneswar-Puri-Konark makes the triangle. & the famous Odishi dance , Sambalpuri dance & Chhau dance of Baripada are the famous dance of Odisha
6-State: Bihar
Language: Hindi
State Capital: Patna
Area : 94,163 sq. km
7-State:Assam
Language: Assamese
Area: 78,438 Sq. Km.
State Capital: Dispur
Others: In Assam, there are 11 wildlife sanctuaries & 5 national Parks. The Kaziranga National Park is situated in this state & famous for its one horned Rhino.
8-State: Arunachal Pradesh
Main Languages: Aka, Miji, Apatani, Adi, Idu-Mishmi, Khamti, Tangsa etc.
State Capital: Itanagar
Area: 83,743 sq. km
9-State: Chattisgarh
Language: Hindi
Area: 1,36,034 Sq. Km.
State Capital: Raipur
10-State: Goa
Language: Konkani & Marathi
Area : 3,702 sq. km
State Capital: Panaji
11-State: Gujarat
Language: Gujarati
Area : 1,96,024 sq. km
State Capital: Gandhinagar
Others: Gujarat is the Birth place of Mahatma Gandhi. It is famous for Somnath Temple & Lion Sanctuary of Gir forest.
12-State: Haryana
Language: Hindi
Area : 44,212 sq. km
State Capital: Chandigarh
Others: Kurukshetra, the place of the epic battle between the Kauravas and the Pandavas, is situated in Haryana.
13-State:Himachal Pradesh
Main Languages : Hindi and Pahari
Area : 55,673 Sq. Km.
State Capital: Shimla
Others: Himachal Pradesh has been adjudged number one State in Primary Education and teacher-student ratio.
14-State: Jammu & Kashmir – It's Declared as a Union Teritory of India recently
Languages : Kashmiri, Urdu, Dogri, Punjabi, Ladakhi, Balti, Gojri, Pahari and Dadri
Area : 2,22,236 sq. km
State Capital: Srinagar (Summer) and Jammu (Winter)
Others: Kashmir Valley is described as the paradise on earth. Dal Lake, Dachigam, Gulmarg, Pahalgam, Sonamarg and Amarnath shrine in the Valley, Vaishnodevi shrine and Patnitop and Buddhist monasteries in Ladakh are popular tourist spots.
15-State: Jharkhand
Language: Hindi
Area : 79,714 sq. km
State Capital: Ranchi
Others: The State is rich in mineral resources. The important available minerals are coal, iron ore, lime stone, copper ore, bauxite, pyrite, china clay, kyanite, fine clay, dolomite, graphite, bentonite, soap stone, quartz sand and silica sand.
16-State:Maharastra
Language: Marathi
Area : 3,07,713 sq. km
State Capital: Mumbai
Others: Mumbai is a major port of India.
17-State:Manipur
Language: Manipuri
Area : 22,327 sq. km
State Capital: Imphal
Others: a month passes by without a festival. Important festivals of the State are: Dol-jatra, Lai Haraoba, Rasa Leela, Christmas, Cheiraoba, Id-ul-Fitr, Imoinu Iratpa, Ningol Chakouba, Rath-Jatra, Yaoshang (Holi), Durga Puja, Mera Houchongba, Gaan-Ngai, Lui-Ngai-ni, Id- ul-Zuha, Diwali, Kut and etc.
18-State:Meghalaya
Language: Khasi & Garo
Area : 22,429 sq. km
State Capital: Shillong
Others:
19-State:Mizoram
Language: Mizo
Area : 21,081 sq. km
State Capital: Aizawl
Others: Aizawl, which is located at nearly 4,000 ft. above sea level, is a religious and cultural centre of the state.
20-State: Madhya Pradesh
Language: Hindi
Area : 3,08,000 sq. km
State Capital: Bhopal
Others: A popular tribal festival is Bhagoriya marked by traditional gaiety and enthusiasm. As this state is located in the Middle of India so the name is called Madhya Pradesh.
21-State: Nagaland
Language: Angami, Ao, Chang, Sema etc.
Area : 16,579 sq. km
State Capital: Kohima
Others: Nagaland was established on 1 December 1963. It is bounded by Myanmar on the East, Arunachal Pradesh on the North, Assam on the West, and Manipur on the South
22-State: Punjab
Language: Punjabi
Area : 50,362 sq. km
State Capital : Chandigarh
Others: Bhangra Dance is a very famous dance of Punjab. Golden Temple of Amritsar is the most liked tourism place in Punjab.
23-State: Rajastan
Language: Rajastani
Area : 3,42,239 sq. km
State Capital: Jaipur
Others: The most attractive tourist place in the state is HAWA MAHAL, Jaipur.
24-State:Sikkim
Language: Nepali, Bhutia, Lepcha & Limbu
Area: 7,096 sq. km
State Capital: Gangtok
25-State: Tripura
Language: Bengali & Kokborok
Area : 10,491.69 Sq. km
State Capital: Agartala
26-State: Uttarakhand
Language: Hindi, Kumaoni & Garhwali
Area : 53,484 sq. km
State Capital: Dehradun
Others: The world-famous Valley of Flowers, Pindari Glacier, Roop Kund, Dayara Bugyal, Auli, and hill stations like Ranikhet, Dehradun, Bageshwar, Mussoorie,Bhimtal, Chakrata, Nainital are the main Tourist destinations.
27-State: Uttar Pradesh
Language: Urdu & Hindi
Area : 2,40,928 sq. km
State Capital: Lucknow
Others: UP is one of the best tourist place of India. The biggest congregation, perhaps of the world, Kumbha Mela is held at Allahabad every twelfth year. Taj Mahal of Agra is also in UP which is one of the most visited place in the World..
28.State: West Bengal
Language: Bengali
Area : 88,752 sq. km
State Capital: Kolkata
Others: West Bengal's most important & popular festival is Durga Puja.
29.State: Telangana
Language : Telugu
Area : 112,077 km2
State Capital : Hyderabad (Permanent Capital)
Others : Telangana was separated from Andhra Pradesh on June 2, 2014. Andhra Pradesh and Telangana would share the Capital HYDERABAD for 10 Years. After that Andhra Pradesh will have a separate state capital.
Union Territories
Andaman and Nicobar Islands
Chandigarh
Jammu and Kashmir
Ladakh
The Government of NCT of Delhi
Dadra and Nagar Haveli
Daman and Diu
Lakshadweep
Puducherry

In 2019, Article 370 was demolished by Modi Govt and Statehood-ship of Jammu and Kashmir was was ended and it was declared as Union Territory of India with Ladakh as a separate Union Territory. A Union Territory is governed by Lieutenant Governor under the guidance of Central Govt.
Now that you know about states and union territories of india, It's Time to Play some quiz and win exciting prizes.