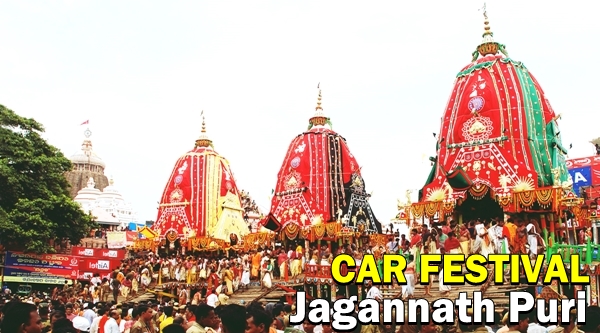 This is most comprehensive Jagannath Puri Rath Yatra Facts website. Where you can find all the questions and answers, facts , history and other aspects of Ratha Yatra attached to Lord Jagannath , Balabhadra and Mata Subhadra.
Lord Jagannath is the Avatar of Shri Rama/Lord Vishnu. All GK Quiz questions and answers on Puri Rath Yatra are given below. You Can also Play Quiz and Win Cash Prizes.
Scroll Down – More Than 100 questions and Answers are listed here.
Q. What is the name of the Rope used on Taladhwaja?
Ans – Basuki Naga
Q. What is the name of the Rope used on the Chariot Darpadalana?
Ans – Swarnachuda Naguni
Q. What is the name of the Rope used on the Chariot Nandighosa?
Ans – Sankhachuda Naguni
Q. What is the name of the Flag used on the Chariot Darpadalana?
Ans – Nadambika
Q. What is the name of the Flag used on the Chariot Taladhwaja?
Ans – Unnani
Q. What is the name of the Flag used on the Chariot Nandighosa?
Ans – Trailokyamohini
Q. Which Colour clothes used on the Nandighosa Chariot?
Ans – Red & Yellow
Interesting Facts of Rath Yatra
Q. Which Colour clothes used on the Taladhwaja Chariot?
Ans – Red & Bluish Green
Q. What colour clothes used on devi Subhadra's chariot?
Ans – Red & Black
Q. It is believed that unless the ________ is sung, 'Ratha(Chariot)' does not move? ( Fill in The Gap )
Ans – Dahuka Boli
Q. How many Wooded pieces are used on Darpadalana?
Ans – 593
Q. How many Wooded pieces are used on Taladhwaja?
Ans – 763
Q. How many Wooden pieces are used on Nandighosa?
Ans – 832
Q. How many wheels are there on Lord Balabhadra's Chariot?
Ans – 14 (Taladhwaja Chariot has 14 wheels)
Q. How many Wheels are there on Mata Subhadra's Chariot?
Ans – 12 (Darpadalana chariot has 12 wheels)
Jagannath Puri Rath Yatra
Q. What are number of wheels in Lord Jagannatha's chariot?
Ans – 16 ( Nandighosha chariot has 16 wheels)
Q. When is the Suna Besa observed?
Ans – After Returning from Gundicha Temple
Q. What is the name of Mata Subhadra's Chariot?
Ans – Darpadalana
Q. What is the name of Lord Balabhadra's Chariot?
Ans – Taladhwaja
Q. What is the name of Lord Jagannatha's chariot?
Ans – Nandighosha
Q. Who is the charioteer of Devi Subhadra's chariot Darpadalana?
Ans – Arjuna
Q. Who is the charioteer of Lord Jagannatha's chariot Nandighosha?
Ans – Daruka
All you Need to Know About Ratha Yatra
Q. Who is the charioteer of Lord Balabhadra's chariot Taladhwaja?
Ans – Matali
Q. How many days did the deities stay in Gundicha Temple?
Ans – 9 Days
Q. Who is Lord Jagannatha's elder brother ?
Ans – Balabhadra
Q. Who are the gate keepers of Lord Balabhadra's chariot?
Ans – Nanda & Sunanda
Q. Who are the gate keepers of Lord Jagannatha's chariot?
Ans – Jaya and Vijaya
Q. Who are the gate keepers of Devi Subhadra's chariot?
Ans – Ganga and Jamuna
Jagannath Puri Car Festival
Q. Who is the Guardian deity of Lord Jagannath's Chariot Nandighosha?
Ans – Garuda
Q. Who is the Guardian deity of Lord Balabhadra's Chariot Taladhwaja?
Ans – Vasudev
Q. Who is the Guardian deity of Lord Jagannath's Chariot Nandighosha?
Ans – Jayadurga
Q. What is the name of the horse of Lord Jagannath's Chariot Nandighosha?
Ans – Shankha, Balahaka, Suweta, Haridashwa
Q. What is the name of the horse of Lord Balabhadra's Chariot Taladhwaja?
Ans – Tribra, Ghora, Dirghasharma, Swornanava
Q. What is the name of the horse of Mata Subhadra's Chariot Darpadalana or Devadalana?
Ans – Rochika, Mochika, Jita, Aparajita
Q. What is the Length, breadth and height of Nandighosha ?
Ans – 34'6″ x 34'6″ x 44′ 2″
Q. What is the Length, breadth and height of Taladhwaja ?
Ans – 33′ x 33′ x 43′ 3″
Q. What is the Length, breadth and height of Debadalana or Darpadalana ?
Ans – 31'6″ x 31'6″ x 42′ 3″
Q. Who are the Nine parshvadevata (Subsidiary deities) of Lord Jagannath's Nandighosha ?
Ans – Panchamukhi Mahabir (Hanuman), Harihara, Madhusudana (Vishnu), Giridhar (Krishna), Pandu Narasingha, Chitamani Krishna,
Narayana (Vishnu), Chatra Bhanga Rabana (Rama), Rama seated on Hanuman
Q. Who are the Nine parshvadevata (Subsidiary deities) of Lord Balabhadra's Taladhwaja ?
Ans – Ganesha, Kartikeya, Sarvamangala, Pralambari (Balarama), Halayudha (Balarama), Mrityunjaya (Shiva), Natamvara (Shiva)
Mukteswar (Shiva), Sheshadeva
Q. Who are the Nine parshvadevata (Subsidiary deities) of Devi Shubhadra's Darpadalana or Devadalana ?
Ans – Chandi, Chamunda, Ugratara, Banadurga (Durga), Shulidurga (Durga), Varahi, Shyamakali, Mangala, Vimala
Also Read;